Fall Hapkido Seminar 2018
Fall Hapkido Seminar 2018
September 22, 2018
Saturday, September 22, 2018, Northwest Hapkido in collaboration with the United Hapkido Federation hosted the first annual Fall Hapkido Seminar. Students from across the Portland Metro, Eugene, Vancouver, and Seattle participated in the four hour event. Between them they represented 5 different schools and a variety of martial art styles.
Sensei Spencer of Northwest Hapkido led the participants in warm-up exercises and reviewed proper falling and rolling techniques that would be used later in the seminar.
Participants spent their first hour learning tan-bong techniques. Meaning "short-stick" the tan-bong is a a Korean weapon unique to Hapkido. The group practiced striking and then broke into partnerships to work on using the short-stick for joint locking and take down techniques.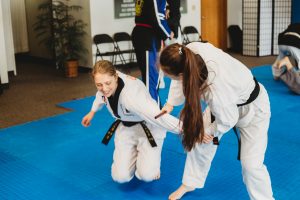 Following a brief break, Grandmaster Charles Podzaline and Mast Mark Hino started the group on utilizing the arm bar in self-defense. Starting from basic arm bar techniques, the group slowly advanced to more dynamic variations and reversals. The seminar concluded with Grandmaster Tim Greathouse instructing the group on wrist locks and form demonstrations from Grandmaster Podzaline and Master Hino.
Want to receive invitations for the future Hapkido Seminars? Sign up here.
A huge thanks to The Wandering Will Photography for the beautiful shots of the event!