New Year, New Space!
WE HAVE MOVED!
And what a feat it was! Since Northwest Hapkido was founded we having been sharing the Isshyru Karate Dojo of Hillsboro for classes and as we have grown we have been looking to find a place to call our own.
At the beginning of December I was fortunate enough to find a space in a great location with only one catch – we needed to move in by January 1st. With our winter break already scheduled we made plans to prep, paint, and move in all in one weekend!
Truly it was a daunting task, but not for the Northwest Hapkido Family!
On Friday, December 28th we received the keys to this plain white box:
On Saturday morning students, family, and friends of Northwest Hapkido showed up in FORCE and got to work!
Electrical Conduit Was removed, windows and mirrors cleaned, equipment hauled, moved, and cleaned.
Bulletin Boards, Mirrors, and pictures were hung,
Mats picked-up, cut, and laid down, and of course
Green paint was everywhere!!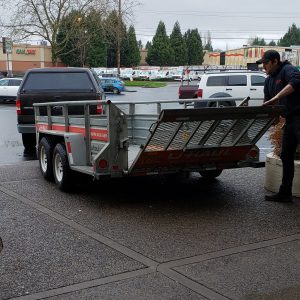 We Locked up the old dojo for the last time, and one week later the we had our first class in our very own space:
Many, many, many thanks to everyone who took part in bringing Northwest Hapkido's new home to life! It looks amazing, and we are excited to continue our training and pursuit of excellence here in 2019!
-Spencer Dowd
Head Instructor at Northwest Hapkido
P.S. – We love our new space and want to share it with you! Come down to take a class with us and meet this awesome group of people!
2092 NW Aloclek Dr. #510
Hillsboro, Oregon, 97124